Marilyn Kaufhold, MD 
Dr. Marilyn Kaufhold is a child abuse pediatrician at the Chadwick Center for Children and Families at Rady Children's Hospital. Her interest in child abuse began during her pediatric residency (1967-1971). The many years between then and now have only confirmed to her the importance of practice in this field. Well-developed research has clearly documented the negative effects of child abuse, in all its forms, on both the developing child and later the adult who struggles with its sequelae. Working in a multidisciplinary manner to recognize and intervene successfully requires skills and knowledge that she has learned throughout her many years in the field complemented by training that she received during her fellowship in Developmental Pediatrics. Additionally, Dr. Kaufhold recognizes her good fortune in being able to work alongside Dr. David Chadwick, a recognized pioneer in the field of child abuse pediatrics.
Dr. Kaufhold helped to develop the San Diego SART program for children under the age of 18. She then refined the California medical provider education course and ushered part of it into a virtual format. She has collaborated with physician and other professional colleagues to develop policies and procedures that the community could rely on to guide child abuse work in San Diego County. She instituted physician peer review of all cases of child abuse evaluated at The Chadwick Center, a practice that continues in a weekly format today, and initiated regular case review with Emergency Medicine physicians.
Dr. Kaufhold has co-authored an international child abuse curriculum and teaches regularly to include at the local, state, national and international levels (The Netherlands, Canada, Mexico, Belize, Colombia, Chile, Belgium, Switzerland, Poland, Hong Kong, Japan, Thailand, The Philippines, Zambia). International collaboration, a particular passion of Dr. Kaufhold's, has offered her the opportunity to recognize that family and community dynamics which give rise to child abuse are very similar everywhere.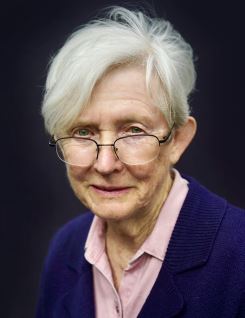 Undergraduate
: Immaculate Heart College, Los Angeles, CA; BA, Major in Biology, minor Chemistry, Philosophy
Medical Education
: St. Louis University School of Medicine, St. Louis, MO
Pediatric Internship and Residency
: Jackson Memorial Hospital, University of Miami, Miami, FL
Child Development Fellowship
– Mailman Center, University of Miami, Miami, FL
Board Certification
: Pediatrics and Child Abuse Pediatrics
"Evaluating Developmentally Disabled Victims of Sexual Abuse," Videotape, co-produced with Robin VanderLaan, 1987
Children's Reactions to the Medical Examination in Sexual Abuse, Het Ongelukschuidje: Medische aspecten van kindermishandeling. No. 22, ed. R. Bilo, Oranje. Gegevens Koninklijke Bibliotheek, The Hague, Netherlands (1998) 
Coauthor with William Green, MD and Elliot Schulman, MD, Curriculum for Sexual Assault Evidentiary Examination Training for Healthcare Providers, California Medical Training Center, UC Davis, Sacramento, California (2001, 2007)
Coauthor with Cynthia Kuelbs, MD, Curriculum: Teen Dating Violence, California Medical Training Center, UC Davis, Sacramento, CA 2003
Curriculum author "Pediatric Sexual Abuse Acute Evidentiary Exam Training for Healthcare Professionals" for California Medical Training Center, 11/04, revised 4/05, revised 4/06. Half the presentation revised and placed on-line 2010
Contributor to Medical Response to Child Sexual Abuse: A resource for Professionals Working with Children and Families by Kaplan,R., Adams,J., Starling,S., Giardano,A. STM Learning, St. Louis 2011
Examination Techniques for Medical Providers in cases of Child and Teen Sexual Abuse: Building Rapport and Maximizing Exam Effectiveness – 40 minute video produced by Matrix Communications, funding through California Clinical Forensic Medical Training Center, released 9/30/11
Anal findings in children with and without probable anal penetration: A retrospective study of 1115 children referred for suspected sexual abuse. Arne K. Myhre, Joyce A. Adams, Marilyn Kaufhold, Jennifer L. Davis, Premi Suresh, Cynthia L. Kuelbs. Child Abuse and Neglect, 2013
ISPCAN-Helfer International Medical Curriculum, co-edited with Aaron Miller, MD  2012
Magana J, Kaufhold M. Child Abuse. Medscape Reference. Updated May 13, 2015. Available at: http://emedicine.medscape.com/article/800657-overview
While mostly retired now, she participates in:
Weekly physician peer review at the Chadwick Center
NCTSN Being Anti-Racist is Central to Trauma-Informed Care: From Awareness to Action. It is a Virtual Summit Initiative, Planned by the NCTSN Racial Justice and Trauma Subcommittee of the Culture Consortium. It involves over 200 participants in multiple centers, guiding them through exercises to recognize and intervene in systemic racism.
Racy Children's Hospital Bioethics Committe