Kanani E. Titchen, MD, FAAP, FAMWA
Dr. Kanani Titchen is an adolescent medicine physician and assistant professor at UC San Diego. As a pediatric subspecialist, Dr. Titchen believes that her clinician and educator roles encompass raising healthy adults by arming youth with information and resources; providing a safe, nonjudgmental, and caring medical home; and challenging youth to increasingly take responsibility for and pride in their own well-being.
Dr. Titchen has expertise in trauma-sensitive adolescent reproductive and sexual health (including all forms of contraception, problems with menstruation, and sexual assault/abuse and human trafficking); medical management of eating disorders including female athlete triad in the outpatient and inpatient settings; and health care for gender diverse youth through the Center for Gender Affirming Care.
As a nationally recognized leader on the topic of human trafficking, Dr. Titchen has spoken at academic institutions, national events, TEDx, and public radio and has advocated for sex trafficking survivors at the United Nation and at the US Department of Health and Human Services. She serves as the faculty coordinator for the medical student sub-internship elective in adolescent medicine and for the pediatric resident human trafficking rotation as part of the "Think Globally, Act Locally" elective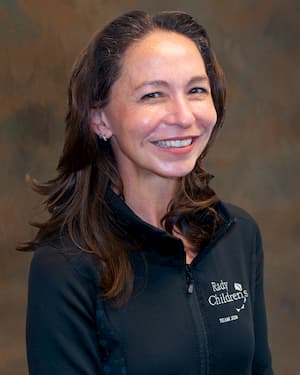 email: ktitchen@health.ucsd.edu
admin email: kbordeleau@rchsd.org
Undergraduate Education:
Bachelor of Science, Double Major in Psychology and Music, Tufts University, MA
Premedical Studies:
Certificate in Premedical Sciences, Columbia University, NY
Medical Degree:
Jefferson Medical College, PA
Residency:
Pediatrics, Thomas Jefferson University Hospital / A.I. duPont Hospital for Children, PA
Fellowship:
Adolescent Medicine Fellowship, Children's Hospital at Montefiore / Albert Einstein College of Medicine, NY
Special Certifications:
Board Certified in General Pediatrics, American Board of Pediatrics
Board Eligible in Adolescent Medicine, American Board of Pediatrics
Merck Clinical Training Certificate: Nexplanon (hormonal implant) insertion and removal
Children's Hospital at Montefiore Certificate: Intrauterine Device (IUD) insertion and removal
GEMS Training Institute for Medical Professionals: Examining Sexual Exploitation & Domestic Trafficking
MGH Institute of Health Professions and HEAL Trafficking: Human Trafficking Education & Training Academy
Areas of Interest
Fostering Resilience in Trafficked and Marginalized Youth
Adolescent Reproductive Health
Female Athlete Triad (aka Relative Energy Deficiency in Sport)
5 Most Relevant Publications
Titchen, KE. & Miller, E. (Eds). (2020). Medical Perspectives on Human Trafficking in Adolescents: A Case-Based Guide. Springer International Publishing.
Titchen KE, Maslyanskaya S, Silver EJ, Coupey SM. Sexting and young adolescents: associations with sexual abuse and intimate partner violence. J Pediatr Adolesc Gynecol. 2019 Jul 19. pii: S1083-3188(19)30244-X. PMID:31330248
Greenbaum VJ, Titchen K, Walker-Descartes I, Feifer A, Rood, CJ, Fong H. Multi-level prevention of human trafficking: The role of health care professionals. Am J Prev Med2018;114;164-7.
Titchen KE, Katz D, Martinez K, White K. Ovarian cystadenoma in a trafficked patient.  Pediatrics 2016;137(5):e1-5. PMID:27233785
Titchen KE, Loo D, Berdan L, Rysavy MB, Ng JJ, Sharif I.  Domestic sex trafficking of minors: medical student and physician awareness.  J Pediatr Adolesc Gynecol. 2015;30(1):102-108. PMID: 26341745
5 Most Relevant Peer-Reviewed Presentations
Titchen KE. Human Trafficking: A Summit to Engage Healthcare Organizations. Invited Speaker/Moderator, S. Department of Health and Human Services, Washington, DC. September 21, 2015.
Titchen KE, Miller E. Child Sex Trafficking: How to Recognize and Respond to It While Avoiding the Rescue Fantasy. Workshop, North American Society for Pediatric and Adolescent Gynecology Annual Clinical & Research Meeting, West Palm Beach, FL. April 13, 2018; at the American College of Obstetricians and Gynecologists Annual District II Meeting, New York, NY. October 19, 2018.
Titchen KE, Maslyanskaya S. How to Talk to Teens in 90 Seconds or Less About Sex. Workshop, Montefiore Pediatric Alumni, Staff, and Network Affiliate Day, Bronx, NY. November 14, 2018.
Titchen KE. Learn, Identify, Fight Trafficking (LIFT). 4-hour CME-accredited training co-presented with local guest survivor experts and human trafficking advocates at multiple academic institutions including UC Santa Barbara, CA; Mayo Clinic, AZ; University of Hawaii, HI; UC San Diego, CA; Thomas Jefferson University Hospital, Philadelphia, PA; NYC Health + Hospitals/Harlem, NY. 2018 – 2020.
Titchen KE. Human Trafficking and Social Media. Keynote Speaker, Staten Island Human Trafficking Awareness Conference, Staten Island University Hospital, Staten Island, NY. September 18, 2019.
Teaching
Adolescent Medicine Educational Liaison, Pediatric Core Clinical Clerkship (PEDS401), UCSD School of Medicine, 01/2021 - Present
Director, 4th Year Medical Student Adolescent and Young Adult Medicine Sub-Internship, Pediatric Core Clinical Clerkship (PEDS406c), UCSD School of Medicine, 07/2020 - 12/2020
Liaison, Human Trafficking Rotation for the "Think Globally Act Locally" Pediatric Global Health Elective Rotation, UCSD/Rady Children's Hospital, UCSD Pediatrics and Medicine/Pediatrics Residency Program, 05/2020 - current
Independent Study Project Committee Member for students from the UCSD School of Medicine
Clinical preceptor for medical students and residents in the Rady Children's Hospital Adolescent and Young Adult Medicine Clinic and the Medical-Behavioral Eating Disorder Inpatient Unit at Rady Children's Hospital
Lecturer and CME instructor for health care professionals at all levels of training
Program Creator & Co-Founder, Physicians Against the Trafficking of Humans, a program of the American Medical Women's Association
Advocacy
Consultant, SOAR to Health and Wellness, NHTTAC, Office on Trafficking In Persons, U.S. Department of Health and Human Services.
Member, Society of Adolescent Health and Medicine Advocacy Committee, 2018 - present
Co-Chair, Health Subcommittee, San Diego County Regional Human Trafficking and CSEC Advisory Council, 2020 – present
National Speaker, Health Advocacy Education Linkage (HEAL Trafficking) Speaker's Bureau
Member, UCSD Human Trafficking Task Force, 2019 – present
Founder and Southwest Co-chair, Physicians Against the Trafficking of Humans, American Medical Women's Association, 2014 – present
Fellow, Council on Child Abuse and Neglect, American Academy of Pediatrics, 2018 – present
Fellow, Section on Adolescent Health, American Academy of Pediatrics, 2015 – present
Service
Epic Software Systems Medical Information Champion, Division of Adolescent and Young Adult Medicine, UCSD Department of Pediatrics
Peer reviewer for the Journal of Human Trafficking, and the Journal of Pediatric and Adolescent Gynecology
Editor, COVID-19: How Can I Protect Myself and Others? Smithsonian Science for Global Goals Community Research Guide