The Pediatric Division of Allergy, Immunology, and Rheumatology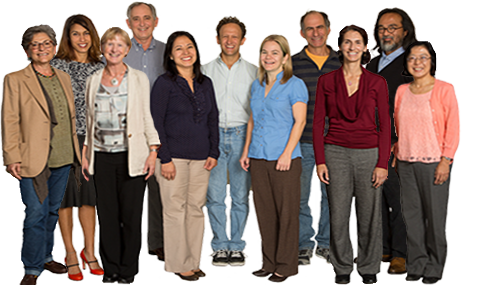 ​LEFT TO RIGHT:
Johanna Cheng, Seema Aceves, John Bastian, Sara Ojeda Lopez, Hal Hoffman, 
Stephanie Leonard, Anthony Horner, Robert Sheets, Noel Mateo
The Division of Allergy, Immunology, and Rheumatology provides comprehensive clinical services for children with allergic, immunologic, rheumatologic diseases, and Kawasaki disease in outpatient and inpatient settings at a variety of venues throughout San Diego County. The division also maintains an internationally recognized research program in the areas of translational and clinical research in autoinflammatory disorders, genetics of rare inherited diseases, Kawasaki disease, the genesis and treatment of allergic diseases, and basic research in T cell immunology.
The Allergy Immunology Program was founded by Dr. Robert Hamburger, emeritus professor in the 1970s and was led by Dr. John Bastian for more than 20 years. Currently, the division has 6 physicians, 2 nurse practitioners, and a nurse specialist. The division has subspecialty clinics in immunodeficiency, recurrent fever, eosinophilic esophagitis, and food allergy.
The Pediatric Rheumatology Program began in 1994 by Dr. Ilona Szer with the establishment of a multidisciplinary team trained to care for children with chronic, disabling rheumatic conditions. In addition to three experienced physicians, the division includes a pediatric clinical nurse specialist, a pediatric physical and occupational therapist, a social worker, a nutritionist, and a parent consultant. The team is the only provider recognized by California Children's Services in San Diego County.
The Kawasaki Disease (KD) Research Program was formed in 1991 by Dr. Jane Burns and is devoted to the study and treatment of patients with KD. It is a one-of-a-kind Center providing 24/7 clinical coverage for KD patients and cutting edge clinical and translational research. In addition to Dr. Burns, Dr. Chisato Shimizu and Dr. Alessandra Franco lead research groups within the Center