Clinical Experiences
​Our fellows benefit from the wide breadth of clinical experience here at Rady Children's Hospital San Diego, the largest children's hospital in California.  As the only hospital in San Diego and Imperial Counties that exclusively cares for kids, Rady Children's is the provider for more than 80 percent of our region's pediatric population.  
Rady Children's Hospital Providing Chimeric Antigen Receptor (CAR) T-cell therapy—a Pioneering Therapy That Re-engineers Patients' Blood Cells to Attack Cancer
Rady Children's Hospital-San Diego is one of a limited number of institutions across the United States certified to treat patients with the Novartis-manufactured immunotherapy tisagenlecleucel (Kymriah).  The drug is FDA-approved for patients diagnosed with refractory or relapsing B-cell acute lymphoblastic leukemia (B-ALL), the most common form of pediatric cancer. Immunotherapy is a rapidly evolving approach to cancer treatment that harnesses and augments a patient's own immune system to treat disease. Kymriah, a type of immunotherapy called chimeric antigen receptor T-cell (CAR-T) therapy, genetically alters patients' blood cells to attack cancer cells.
"In early multicenter clinical trials, 83 percent of patients were able to achieve remission within three months of Kymriah infusion," says Deborah Schiff, M.D., pediatric hematologist-oncologist at Rady Children's who oversees the Hospital's Kymriah initiative. "We're fortunate to have this opportunity to provide this potentially life-saving therapy for patients with a previously poor prognosis."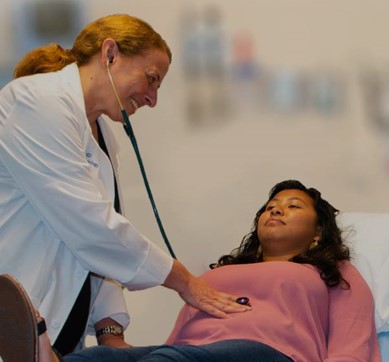 Rady Children's Hospital multidisciplinary Hematology/Gynecology Clinic
As part of our federally funded Hemostasis and Thrombosis Treatment Center, we have created a joint multidisciplinary Hematology/Gynecology Clinic with Dr. Irene Su (UCSD OB/GYN & Reproductive Medicine), and is part of the Learning Action Networks for Foundation For Women and Girls with Blood Disorders. Our program provides services to female patients with reproductive tract bleeding, who also have bleeding or clotting disorders. The program aims to decrease treatment burden for these patients, as well as provide centralized care, given the unique needs of this patient population.  Our program also works in conjunction with Adolescent Medicine and Endocrinology to streamline and standardize the workup and treatment of girls and young women with reproductive tract bleeding.
The Bone Marrow Failure Program, directed by
Nicholas Gloude, M.D.
, treats patients with various inherited and acquired forms of bone marrow failure. Our program comprises of an expert team of pediatric hematologists/oncologists and bone marrow transplant physicians who specialize in treating these conditions. Our team works closely with other pediatric subspecialists to provide comprehensive multi-disciplinary care and streamline transition to adult care. Rady Children's Hospital/ UC San Diego School of Medicine is a member of both the North American Pediatric Aplastic Anemia Consortium and the Clinical Care Consortium of Telomere-Associated Ailments. As consortium members, our program can offer multicenter clinical trials to our patients and opportunities for expert consultations.
 is an interdisciplinary clinic that brings together expertise from the Division of Hematology/Oncology and the 
Division of Genetics/Dysmorphology
 to provide care, research and education for patients who have identified genetic cancer predispositions and their families. In the program, patients who have genetic cancer predispositions have a combined visit with our pediatric oncologist, 
Dennis John Kuo, M.D., M.S.
, and genetic counselor, 
Diane Masser-Frye, M.S., M.S.W.
, to assess their level of future cancer risk, to develop a personalized cancer surveillance plan and to provide education and counseling for the patient and family.
Rady Children's, in partnership with California Protons , offers proton therapy for pediatric cancers and non-cancerous tumors. We are the only program in California providing the most advanced pencil-beam scanning proton therapy for brain, solid tumors, and lymphomas.
Pediatric patients referred from the Western US including the San Diego region are followed by our Proton Pediatric Oncology team headed by Dr. Jennifer Elster  during their treatment.
Proton Therapy - Pediatric Cancer Treatment - California Protons