Clinical Training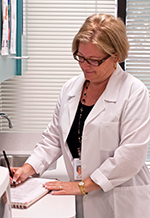 Pediatric Pulmonary fellows at UCSD complete a substantial amount of their clinical training during the first year of fellowship.  Approximately seven months of the first year are spent on the inpatient wards.  Rady Children's Hospital San Diego serves the majority of children requiring inpatient care in San Diego, Riverside and Imperial Counties.  Fellows at UCSD provide care to children affected by the entire breadth of pediatric respiratory disorders.
During the inpatient rotation, fellows care for patients on the pulmonary service, provide consultations, and perform bronchoscopy.  In addition, the fellow performs rounds with the UCSD pediatric house staff and contributes to the education of both residents and medical students. Training in outpatient care is accomplished via a continuity clinic in which patients referred from the community are assigned to be seen by the fellow.  The continuity clinic is continued throughout fellowship, allowing fellows to develop long-term relationships with families while observing the evolution of pediatric respiratory disease.  In addition, fellows gain further experience in outpatient care by attending various specialty clinics that focus on the care of children with cystic fibrosis, neuromuscular disease, and sleep disorders. 
Throughout the first year, fellows are also trained in the performance and interpretation of pulmonary function testing, polysomnography, and respiratory clearance techniques.  A degree of flexibility is built into the clinical training offered at UCSD, and fellows are encouraged to develop clinical expertise within a particular area of Pediatric Respiratory Medicine.
UCSD Pediatric Pulmonary Fellowship Block Schedules
First Year
Twenty-four inpatient weeks, done in two week blocks
The primary pulmonary service cares for our patients and families requiring in-hospital care for both acute and chronic respiratory diagnoses.  These include children with asthma, chronic lung disease, cystic fibrosis, and technology dependence, amongst others. 
Our fellows are trained to embrace a family-centered approach to care.  As fellows progress through training, they are asked to gradually take on increasing responsibility in leading team rounds and teaching housestaff and medical students. 
The primary pulmonary service admits children who receive care in the pulmonary clinic and require inpatient care for respiratory diagnoses.  A pulmonary nurse practitioner dedicated solely to inpatient care assists and contributes to fellow education.  Pediatric housestaff admit and care for patients on the pulmonary service.
In addition to caring for children on the primary service, fellows provide pulmonary consultation to children in both the medical wards and intensive care units. 
The inpatient fellow performs flexible bronchoscopy when requested for inpatients.
Our schedule affords flexibility for fellows to focus on one or more aspects of inpatient care, including acutely ill patients, those with chronic respiratory disease, or those on the consult service.  
Twelve outpatient weeks, done in 2 week blocks
Fellows hold their own continuity clinic for one half day session per week throughout their training.  Fellows become the primary pulmonologist for children referred by primary care providers or other specialists in addition to seeing children for whom they provided inpatient consultations. 
During the outpatient rotation, fellows see patients under the supervision of assigned faculty in the general pulmonary clinics.  Fellows learn to care for the spectrum of children in the outpatient setting, ranging from generally healthy children with common respiratory issues to children with respiratory concerns related to complex, multi-system disease.
Fellows attend disease focused sub-specialty clinics and gain exposure to models of interdisciplinary care and cutting edge approaches to disease management.  These clinics include:

Aerodigestive disorders
Bronchopulmonary disease
Complex sleep apnea
Cystic fibrosis (with additional clinics specializing in gastroenterology, diabetes and newborn screening)
Neuromuscular disease
Positive airway pressure therapy
Pulmonary Hypertension
Severe Asthma
Sleep disorders
Two PICU weeks
The fellow gains exposure to acute management of critically ill children with respiratory disease. 

Two pulmonary function testing lab / polysomnography weeks
While fellows gain exposure to interpretation of PFT and sleep studies throughout their fellowship, this rotation affords fellows time to focus on the technical aspects and physiological basis that underlie  accurate interpretation.
Eight research weeks
Fellows start planning and participate in scholarly work from the first day of fellowship.  They partner with faculty to explore and discuss interests, meet with potential mentors, gain training in quality improvement, and establish a mentor and scholarly project before the completion of the first year.
Four vacation weeks
Second and Third Year

During the second and third years of fellowship, fellows aim to strengthen clinical skills in the inpatient rotation and outpatient continuity clinic.  Fellows lead inpatient team rounds as well as take on increased teaching responsibilities.
 
The second and third years are structured to allow fellows protected time to focus on scholarly work.
40 research weeks
8 inpatient weeks
2 outpatient weeks
4 vacation weeks
Weekly (half day) continuity clinic
Fellow covers inpatient service and weekend call