George Y. Liu, MD, PhD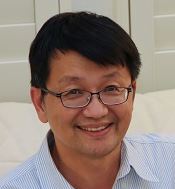 GEORGE Y. LIU, MD, PHD
DIVISION CHIEF, PEDIATRIC INFECTIOUS DISEASES
PROFESSOR OF PEDIATRICS
Academic Appointment
Chief and Professor, Pediatric Infectious Diseases, Department of Pediatrics
Clinical Areas
Infectious Diseases – Pediatric
Education
Undergraduate: California Institute of Technology, 1990
Doctorate: University of Cambridge, Immunology 1995
Medical School: University of California San Diego School of Medicine, 1998
Residency: University of California Davis Medical Center, 2001
Fellowship: University of California San Diego Medical Center, 2006
Awards
American Society for Clinical Investigation, 2017
American Society for Microbiology Irving S. Sigal Memorial Award, 2009
Pediatric Infectious Disease Society Young Investigator Award, 2008
The research of George Y. Liu, MD PhD, focuses on understanding how interactions between Gram-positive pathogens (including MRSA, GBS and P. acnes) and the host leads to a productive infection. From the bacterial side, Dr. Liu strives to identify novel immune evasion mechanisms that facilitate pathogen invasion of the host. Conversely, he studies host antimicrobial mechanisms that keep bacterial infection in check. Ultimately, based on knowledge of host and bacterial defense mechanisms, he seeks to identify novel strategies to treat infections caused by antibiotic-resistant pathogens.
Kolar SL, Tsai CM, Torres J, Fan X, Li H, Liu GY. Propionibacterium acnes-induced immunopathology correlates with health and disease association. JCI Insight. 2019 Mar 07; 4(5).
Sanchez M, Kolar SL, Muller S, Reyes CN, Wolf AJ, Ogawa C, deCarvalho D, Arditi M, Underhill DM, Martins GA, Liu GY. O-acetylation of peptidoglycan limits helper T cell priming and permits Staphylococcus aureus reinfection. Cell Host Microbe. 2017;22:543-551.
Kolar S, Kyme P, Tseng CW, Soliman A, Kaplan A, Liang J, Nizet V, Jiang D, Murali R, Arditi M, Underhill DM, Liu GY. Group B Streptococcus evades host immunity by degrading hyaluronan. Cell Host Microbe. 2015;18:694-704.
Sabrina Müller, Wolf AJ, Iliev ID, Berg BL, Underhill DM, and Liu GY. Poorly cross-linked peptidoglycan formed in MRSA due to mecA induction strongly activates the NLRP3 inflammasome and exacerbates immunopathology. Cell Host Microbe. 2015;18:604-612.
Tseng CW, Biancotti JC, Berg BL, Gate D, Kolar SL, Muller S, Rodriguez MD, Rezai-Zadeh K, Fan X, Beenhouwer DO, Town T, Liu GY. Humanized mice are more susceptible to Staphylococcus aureus skin and soft tissue infection. PLoS Pathog. 2015;11:e1005292.
Kyme P, Thoennissen NH, Tseng CW, Iwanski GB, Shimada K, Krug UO, Lee K, Hardy WD, Gombart AF, Koeffler HP, Liu GY. CCAAT/enhancer binding protein epsilon mediates nicotinamide-enhanced clearance of Staphylococcus aureus infection. J Clin Invest. 2012;122:3316-3329.
Liu C*, Liu GY*, Song Y, Yin F, Hensler ME, Nizet V, Wang AH, Oldfield E. A cholesterol lowering drug inhibits Staphylococcus aureus virulence. Science. 2008;319:391-394 (*Co-first authors).
Liu GY, Essex A, Buchanan JT, Datta V, Fierer J, Nizet V. Staphylococcus aureus golden pigment impairs neutrophil killing and promotes virulence through its antioxidant activity. J Exp Med. 2005;202(2):209-215.
Liu GY, Doran K, Lawrence T, Turkson N, Puliti M, Tissi L, Nizet V. Sword and shield: linked group B streptococcal β-hemolysin/cytolysin and carotenoid pigment function to subvert host phagocyte defense. Proc Natl Acad Sci USA. 2004;101(40):14491-14496.
Doran K., Liu GY, Nizet V. Group B streptococcal β-hemolysin/cytolysin activates neutrophil signaling pathways in brain endothelium and contributes to development of meningitis. J Clin Invest. 2003;112(5):736-744.
Liu, GY, Fairchild, PJ, Smith, RM, Prowle, JR, Koussis, D, Wraith, DC. Low avidity recognition of self-antigen by T cells permits escape from central tolerance. Immunity. 1995;3(4):407-415.