Jane Burns, MD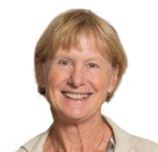 JANE BURNS, MD
DIRECTOR OF KAWASAKI DISEASE CLINIC &
KAWASAKI
 DISEASE RESEARCH CENTER
PROFESSOR OF PEDIATRICS
Academic Appointment:
Instructor in Pediatrics, Harvard Medical School, Boston, MA​ 1986-1989
Assistant Professor, Harvard Medical School, Boston, MA 1989-1990
Assistant Professor, Dept. of Pediatrics, University of California, San Diego 1990-1995
Director, Kawasaki Disease Research Center, UCSD/Rady Children's Hospital, San Diego 1991-
Associate Professor, Department of Pediatrics, UCSD 1995-1999
Professor, Department of Pediatrics, UCSD 1999-
Chief, Division of Allergy, Immunology, and Rheumatology, Dept. of Pediatrics, UCSD 2002-2012
Member, AHA Committee on Rheumatic Fever, Endocarditis, and Kawasaki disease 2003-2015
Clinical Areas:
Kawasaki Disease
Education:
Undergraduate: Wesleyan University, Biology 1974
Medical School: University of North Carolina School of Medicine, 1978
Residency and Chief Residency: University of Colorado, Dept of Pediatrics, 1982
Pediatric Infectious Disease fellowship: University of Colorado, 1983 and Harvard Medical School, 1986
Visiting Scholar in Molecular Genetics: University of California San Diego, 1991
Awards
Charles A. Janeway Fellowship, Children's Hospital, Boston, MA 1984
Wolbach Research Fellow Award, Children's Hospital, Boston, MA 1985
ICAAC Young Investigator Award, American Society for Microbiology 1987
Elected Member, Society for Pediatric Research 1991
Shannon Award NIH-NHLBI #R55-HL48825-01 1992
Elected Fellow, Infectious Disease Society of America 1998
Pioneer Award from KD Foundation for contribution to research on KD 2009
Elected to the Association of American Physicians 2019
For the last 30 years, Dr. Burns' has studied Kawasaki disease (KD) pathogenesis, epidemiology, immunology, genetics, and treatment. As Director of the Kawasaki Disease Research Center at UCSD, she has brought together molecular biologists, climate scientists, microbiome scientists, geneticists, epidemiologists, immunologists, clinicians, historians and anthropologists to create a rich research environment for studying KD through many different lenses. Through the support of NHLBI, Dr. Burns' team has developed a biorepository that includes serum, plasma, urine, RNA, and DNA on KD patients and febrile control children with detailed phenotypes including demographic, clinical, laboratory, and echocardiographic data. Her current research initiatives are broadly focused on understanding the environmental trigger for KD, genetic influences on disease susceptibility and outcome, molecular pathogenesis of the vasculitis, and novel treatments to block coronary artery damage.
Epidemiology
Rypdal M, Rypdal V, Burney JA, Cayan D, Bainto E, Skochko S, Tremoulet AH, Creamean J, Shimizu C, Kim J, Burns JC. Clustering and climate associations of Kawasaki Disease in San Diego County suggest environmental triggers. Scientific Reports. 2018 Nov 12;8(1):16140.
Skochko S, Jain S, Sun X, Sivilay N, Kanegaye JT, Pancheri J, Shimizu C, Sheets R, Tremoulet AH, Burns JC. Kawasaki Disease Outcomes and Response to Therapy in a Multiethnic Community: A 10-Year Experience. J Pediatr. 2018 Dec;203:408-415.
Burns JC, Cayan DR, Tong F, Turner CL, Shike H, Kawasaki T, Nakamura Y, Yashiro M, Yanagawa H. Seasonality and temporal clustering of Kawasaki Syndrome in Japan, 1987-2000. Epidemiology. 2005 Mar;16(2):220-225.
Climate Science
Rodó X, Curcoll R, Robinson M, Ballester J, Burns JC, Cayan DR, Lipkin WI, Williams BL, Couto-Rodriguez M, Nakamura Y, Uehara R, Tanimoto H, Morguí JA. Tropospheric winds from northeastern China carry the etiologic agent of Kawasaki disease from its source to Japan. Proc Natl Acad Sci. 2014 Jun 3;111(22):7952-7.
Burns JC, Herzog L, Fabri O, Tremoulet AH, Rodo X, Uehara R, Burgner D, Bainto E Pierce D, Tyree M, Cayan D for the Kawasaki Disease Global Climate Consortium. Seasonality of Kawasaki disease: A global perspective. PLoS One. 2013 Sep 18;8(9):e74529.
Rodo X, Ballester J, Cayan D, Melish ME, Nakamura Y, Uehara R, Burns JC. Association of Kawasaki disease with tropospheric wind patterns. Science Reports. 2011;1:152. (PMID: 22355668)
Molecular pathogenesis
Lech M, Guess J, Duffner J, Oyamada J, Shimizu C, Farutin V, Bulik DA, Gutierrez B, Sarvaiyq H, Kapoor B, Koppes L, Saldova R, Stockmann H, Albrecht S, McManus C, Rudd PM, Kaudinya V, Manning AM, Bosques C Kahn AM, Daniels LB, Gordon JB, Tremoulet AH, Capila I, Gunay NS, Ling LE, Burns JC. Circulating markers of inflammation persist in children and adults with giant aneurysms after Kawasaki disease. Circ Genom Precis Med. 2019 Mar 7.
He M, Chen Z, Martin M, Zhang J, Woo B, Tremoulet AH, Shimizu C, Burns JC, Shyy JY-J. miR-483 Targeting of CTGF Suppresses Endothelial-to-Mesenchymal Transition: Therapeutic Implications in Kawasaki Disease. Circ Res. 2016 Dec 6;120(2):354-365
Hoang LT, Shimizu C, Ling L, Naim A, Khor CC, Tremoulet AH, Kanegaye JT, Hibberd ML, Burns JC. Global gene expression profiling identifies new therapeutic targets in acute KD. Genome Medicine. 2014 Nov 20;6(11):541.
Genetics
Shimizu C, Eleftherohorinou H, Wright V, Kim J, Alphonse M, Cimaz R, Burgner D, Dahdah N, Hoang LT, Khor CC, Salgado A, Tremoulet A, Davila S, Kuijpers TW, Hibberd ML, Onouchi Y, Yeung RSM, Coin LJM, Levin M, Burns JC. Genetic variation in the SLC8A1 calcium signaling pathway is associated with susceptibility to Kawasaki disease and Coronary Artery Abnormalities. Circ Cardiovasc Genet. 2016 Nov 21;9:559-568
Onouchi Y, Ozaki K, Burns JC, Shimizu C, Terai M, Hamada H, Honda T, Suzuki H, Suenaga T, Takeuchi T, Yoshikawa N, Suzuki Y, Yasukawa K, Ebata R, Higashi K, Saji T, Kemmotsu Y, Takatsuki S, Ouchi K, Kishi F, Yoshikawa T, Nagai T, Hamamoto K, Sato Y, Honda A, Kobayashi H, Sato J, Shibuta S, Miyawaki M, Oishi K, Yamaga H, Aoyagi N, Iwahashi S, Miyashita R, Murata Y, Sasago K, Takahashi A, Kamatani N, Kubo M, Tsunoda T, Hata A, Nakamura Y, Tanaka T; Japan Kawasaki Disease Genome Consortium; US Kawasaki Disease Genetics Consortium. A genome wide association study identifies three new risk loci for Kawasaki disease. Nature Genetics. 2012 Mar 25;44(5):517-21.
Onouchi Y, Gunji T, Burns JC, Shimizu C, Newburger JW, Yashiro M, Nakamura Y, Yanagawa H, Wakui K, Fukushima Y, Kishi F, Hamamoto K, Terai M, Sato Y, Ouchi K, Saji T, Narai A, Kaburagi Y, Yoshikawa T, Suzuki K, Tanaka T, Nagai T, Cho H, Fujino A, Sekine A, Nakmuchi R, Tatsuhiko T, Kawasaki T, Nakamura Y, Hata A. IPTKC functional polymorphism associated with Kawasaki disease susceptibility and formation of coronary artery aneurysms. Nature Genetics. 2008 Jan;40(1):35-42.
Novel treatments
Tremoulet AH, Jain S, Jone PN, Best BM, Duxbury EH, Franco A, Printz B, Dominguez SR, Heizer H, Anderson MS, Glodé MP, He F, Padilla RL, Shimizu C, Bainto E, Pancheri J, Cohen HJ, Whitin JC, Burns JC. Phase I/IIa Trial of Atorvastatin in Patients with Acute Kawasaki Disease with Coronary Artery Aneurysm. J Pediatr. 2019 Sep 24. pii: S0022-3476(19)30972-2.
Tremoulet AH, Jain S, Jaggi P, Jiminez-Fernandez S, Pancheri JM, Sun X, Kanegaye JT, Kovalchin JP, Printz B, Ramilo O, Burns JC. Phase III randomized, double-blind, placebo-controlled trial of infliximab for intensification of primary therapy for Kawasaki disease. Lancet. 2014 May 17;383(9930):1731-8.
Tremoulet AH, Pancoast P, Franco A, Bujold M, Shimizu C, Onouchi Y, Tamamoto A, Erdem G, Dodd D, Burns JC. Calcineurin inhibitor treatment of IVIG-resistant Kawasaki disease. J Pediatr. 2012 Sep;161(3):506-512
Newburger JW, Takahashi M, Burns JC, Beiser AS, Chung KJ, Duffy CE, Glode MP, Mason WH, Reddy V, Sanders SP, Shulman ST, Wiggins JW, Hicks RV, Fulton DR, Lewis AB, Leung DYM, Colton T, Rosen FS, Melish M. Treatment of Kawasaki Syndrome with intravenous gamma globulin. N Engl J Med. 1986 Aug 7;315(6):341-347